Thermally Efficient Solid Roof Conservatories
If you're looking to install a conservatory in Gloucestershire, consider the benefits of solid roof conservatories. Solid roofs provide improved thermal efficiency and weather performance. Additionally, we can install glass panels in your next solid roof conservatory so that you still benefit from plenty of natural light.
Even more importantly, solid roofs can provide increased thermal performance, whilst still bringing in natural light. This can be especially helpful if your solid roof conservatory doubles as an office or playroom.
Now, with an Ultraframe solid roof conservatory, we can offer shaped glazing. When you contact us about your next solid roof conservatory, create a fully bespoke internal design.
Ultraframe Solid Livinroof
Solid conservatory roofs provide Cheltenham homeowners with numerous benefits like being engineered to your postcode or being fully fire tested. Consider the advantages of improving thermal control with the Livinroof, while directing the light in your creative living space to create stunning internal designs.
For example, Livinroof is the lightest solid roof on the market at only 31 kg/m2, which means that it's perfect for replacing existing conservatory roofs on existing frames. It's easily configurable to any roof design, from classic conservatory styles to more complex shapes and sizes.
That doesn't take away from its superior thermal performance. The Livinroof system offers U-values as low as 0.16 W/m2K. It can achieve these unbelievably low U-values due to its thermally insulated internal pelmets and thermally broken rafters with no cold bridging.
The solid roof conservatory offers robust construction and, unlike competitors, full fire testing as a unit. It's hard to say no to the Livinroof, considering its customisable shaped glazing and endless configuration.
Ultraframe Tiled Ultraroof
The Ultraroof 380 is the leading tiled conservatory roof system on the market, boasting well rounded performance levels and full length glass panels in addition to full being fully fire tested. Ultraroof helps to create seamless synergy between your new creative living space and the rest of your home with full length glass panels.
Ultraroof may be lightweight, but it is immensely strong. It never needs a tie bar, improving internal aesthetics for you in your solid roof conservatory. This roof can also withstand 4m span bifolds without extra support. Externally, a selection of tile designs and the slimline ridge and hips enhance visual appeal even further.
U-values of the tiled roof can be as low as 0.13 W/m2K, which is around ten times better than your average double glazed window. It allows the full solid roof conservatories we construct to sit at a natural temperature all year round. You can use these creative living spaces however you wish, without concerns of unsightly heating bills in cold Gloucestershire winters.
1-2-1 Consultation
Let us know if you have any questions about your solid roof conservatory installation. You can contact us with our online form. When you get in touch, we can talk about your next designs.
Explore Our Other Products
Frequently Asked Questions
We can ensure that you also get a solid roof conservatory in whichever designs you are looking for: Edwardian, P-shaped, lean-to, Gable-fronted, or more complex designs. With the Ultraframe Livinroof, we can install solid roofs on low pitched lean-tos as low as 5° and up to 44°.
Solid Roof Conservatories Cheltenham & Gloucestershire
Speak with our friendly team about solid roof conservatory installations. Start the design process and you will be put in touch with a Project Manager.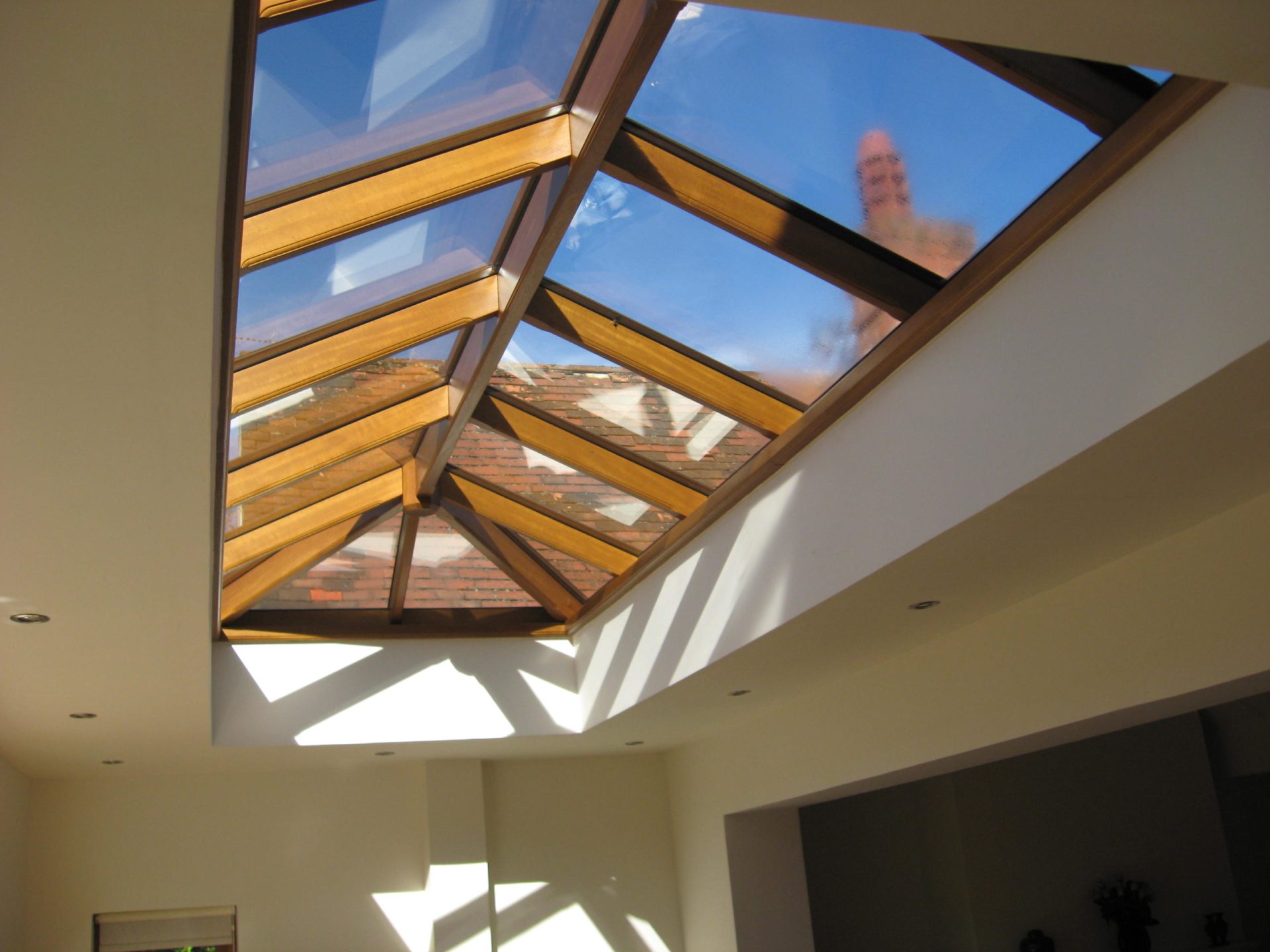 Estimate From A Project Manager
Start designing your modern windows, doors, modern conservatory or creative living space, wherever you are in Cheltenham, Gloucestershire or the surrounding areas.