We recently completed an aluminium conservatory for this client to expand the space in their home. This was a very exciting new build which allowed us to explore the use of various high end products and materials to provide a luxurious room which would be sure to impress guests at the property. As always, attention to detail was vital in delivering the standard required by the client.
This conservatory used a combination of authentic stonework and black profile frames to create a slick, traditional aesthetic which blended seamlessly with modern elements. All glass features were double glazed to provide an outstanding degree of thermal efficiency, ensuring that the interior space can be enjoyed all year round, even during the cold winter months. In addition, the added structural support of dual pane glass enhanced the security of the conservatory's windows and doors, as they would be more able to withstand physical force without breaking.
Interested in a brand new creative living space at your property? Our expert team of installers can design a bespoke new build for your building which will help you to fall in love with your home all over again. Speak to a project manager to get started with your installation.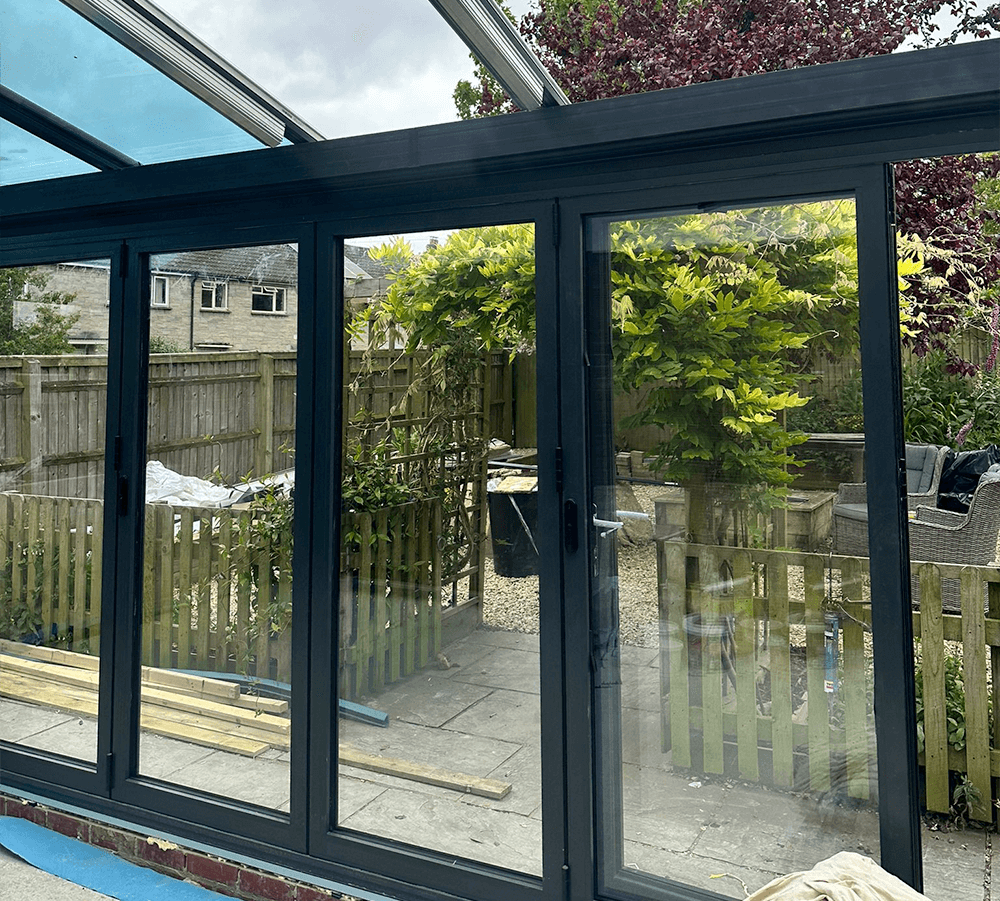 Getting Started
The first step was to establish the necessary groundwork which would need to be cleared with DPC building regulations. To do this, we needed to specify what type of conservatory extension would suit the customer's beautiful property. After discussing the homeowner's ambitions with our design team, we devised a blueprint that used practical, impressive features such as an aluminium bifold door with black chrome handle and hinge accessories. This was a vital element for modernising the look of the conservatory without ruining the existing style of the building.
The window and roofing system featured Sunshade Blue solar self-cleaning glass, which makes for a fantastic addition to any property. On top of the principle benefit of being remarkably low maintenance, this make of glass is ideal for reducing glare inside the home whilst flooding the space with warm, natural light. The aluminium frames used as part of the ATLAS roofing system and window features were equipped with trickle vents to ensure the room could be ventilated easily, preventing overheating in the summer.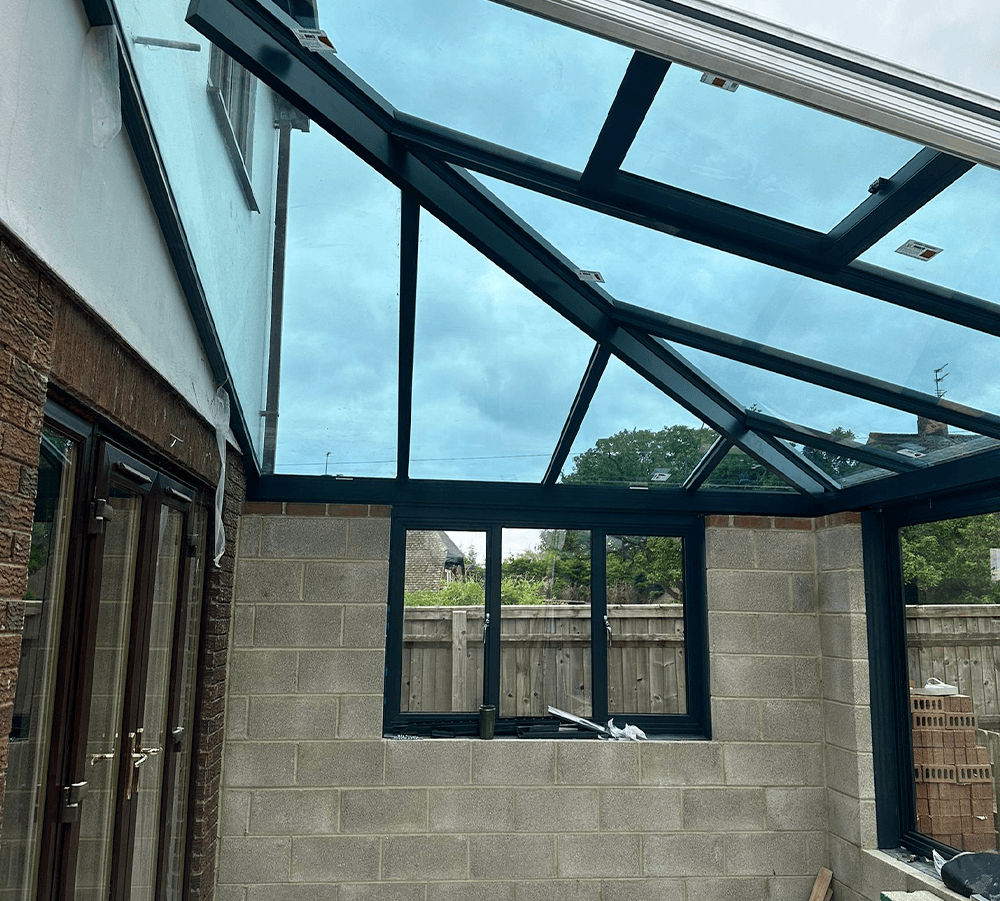 Luxury Conservatory Installation
We pride ourselves on offering a comprehensive service to our clients. Organising for multiple companies to attend your property in order to install and check various utilities can be a lot of hassle, which is why we like to streamline the process. For this project, the entire build was managed in-house, meaning all electrical and garden aspects of the conservatory such as the electric radiators and concrete base finish were sorted by us on behalf of the client.
The finishing touches included new wall plastering and two wall lights for the perfect amount of lighting in the space. This conservatory installation exhibited the excellence, professionalism and teamwork that our company offers, and the client was more than satisfied with the result. With the job done, we cleared up our mess, made sure everything was in order and moved on to the next project!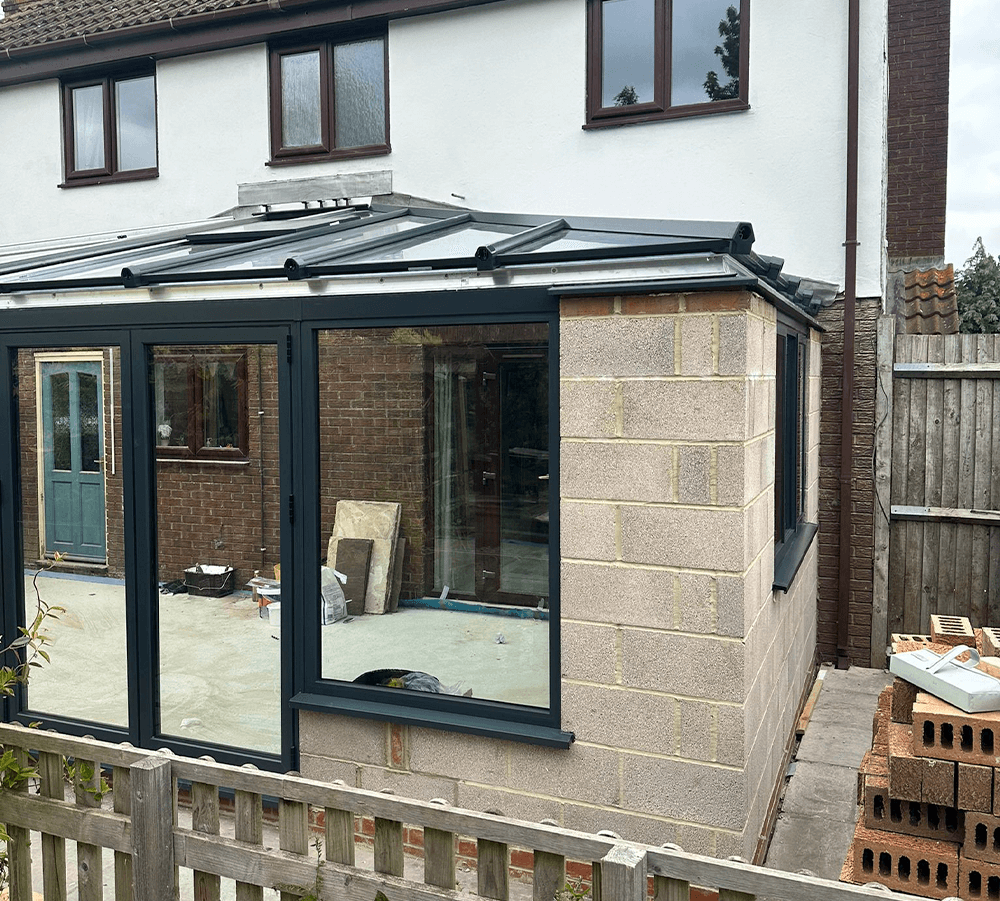 Aluminium Conservatory Prices
For a breathtaking new aluminium conservatory for your home, speak to our friendly team today! We have an online designer tool which can begin your project by taking your specifications through to our consultants. If you have any questions for our team, fill out our online contact form or give us a call on 01242 681207. We can't wait to hear from you!