These types of bay window/door hybrid installations have grown more and more popular over recent years as a classy, elegant way to connect the interior of the property with the exterior. This client was looking for an upgrade on their rear door by expanding the space leading into the garden and creating a protruding unit which complements the visual appeal of the exterior brickwork. The Little Conservatory Company was proud to assist the client in bringing this vision to life.
Our team of expert installers are passionate about building creative new features that help your home to feel unique and tailored to you. We'll put your needs first throughout the installation, keeping the entire project in-house and utilising our business relationships to manage all trade aspects of your new build. Speak to a project manager to learn more about our services by getting in touch!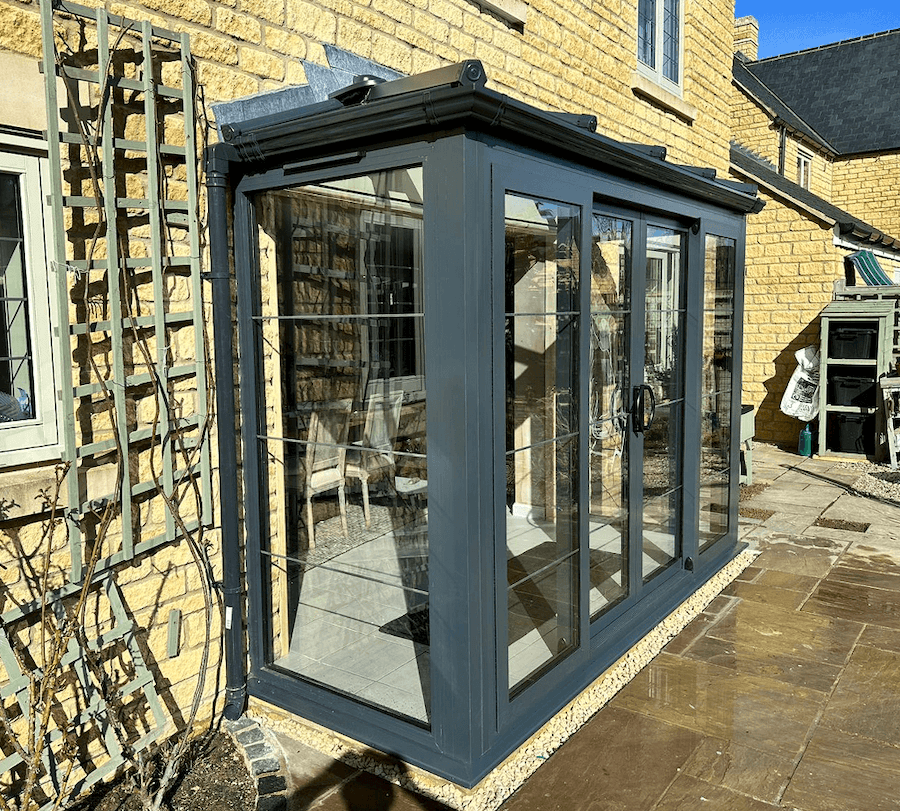 First Steps
Whilst a project such as this may be small in size, attention to detail is required to ensure a stunning appearance, secure design and fantastic thermal efficiency. To start with, a portion of the pre-existing patio space was cleared away and the groundwork was laid for an insulated floor system. Precise measurements were applied to ensure that the brick to floor level would be matching, creating a seamless appearance inside the property. Once this had been completed, the existing doors were removed and the build could begin.
To provide the standard of quality that the client needed, premium grade products were used to manufacture this walk-in bay window. Yale is a security hardware company renowned for their strong, secure mechanisms, which is why we were more than happy to use their locking systems to help protect the building from potential intrusion attempts. It was also vital that the installation offered ventilation to the interior of the property to improve air quality, which we provided with Tilt & Turn vents.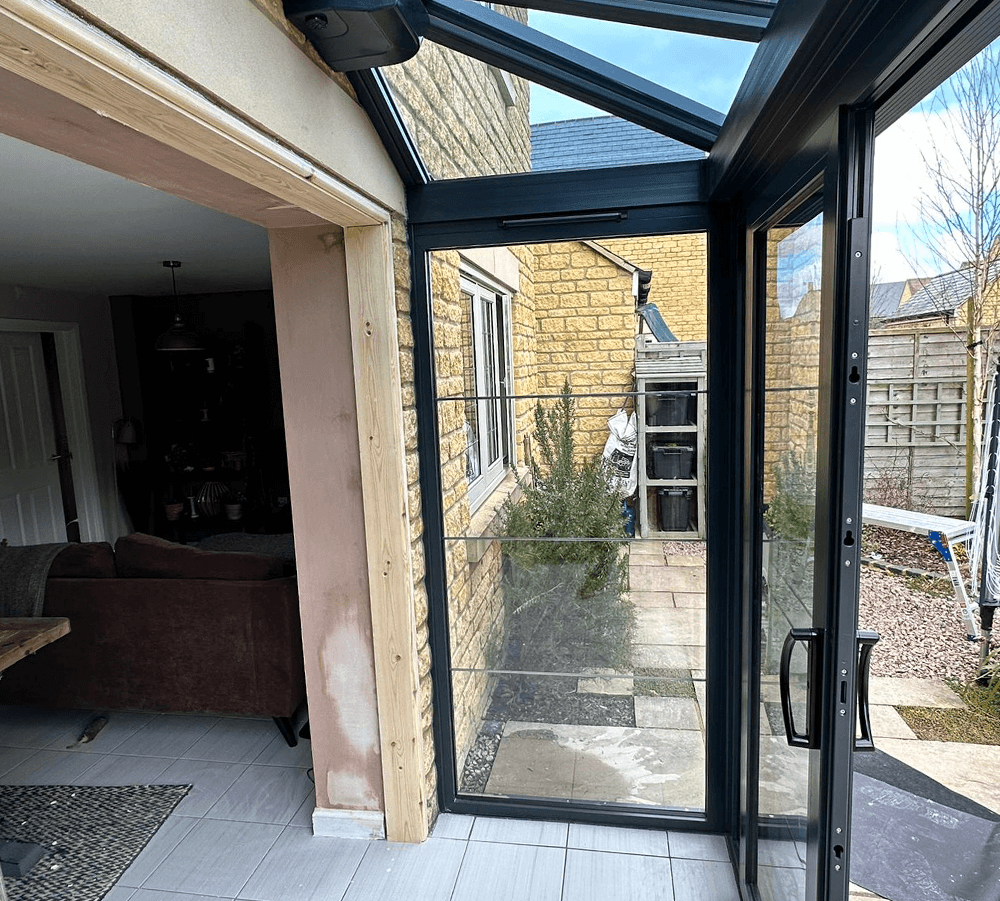 Bespoke Rear Door Space
By equipping this bay window space with French sliding doors, we created a stylish home improvement that the client couldn't wait to show off to their family and friends. All products were designed to offer a remarkable degree of durability without requiring excessive maintenance or aftercare. Aluminium profiles were used for their slick, robust frames to further support the structural integrity of the build. We were very happy with the final look of this project!
Wide glass panels proved to be effective in allowing natural light to flow freely through the interior space and create a warm, welcoming atmosphere without compromising on thermal comfort. The double glazing was manufactured using thermal spacer bar technology and filled with Argon gas to provide outstandingly low U-values, which will ensure the customer stays warm and cosy throughout the cold winter months. The intricate glass roof system came with a beautiful sunshade blue tint, and a small gravel space was created around the perimeter to suit the patio leading out into the garden.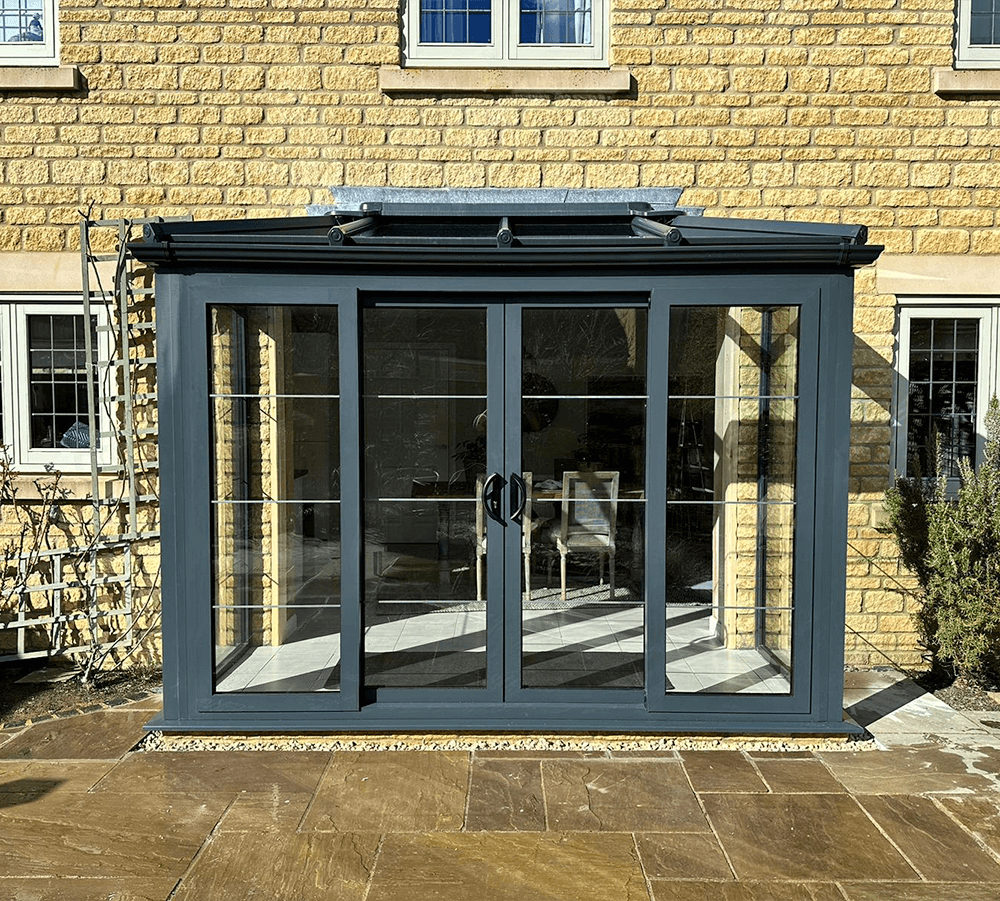 Walk-In Bay Window Designs
Walk-In Bay Windows are an example of how we can create a bespoke solution to suit the needs of your property. Our design team will handle the entire project from start to finish, which means you can relax and enjoy a straightforward, hassle free service. Use our online designer tool to enter your specifications and start your journey. If you have any questions for our experts, let us know by either filling out our online contact form or calling us on 01242 681207. We'll be more than happy to help you!