This project was a Lean-To Hardwood Conservatory replacement based in Prestbury. The broad space of 8m x 4m posed an interesting opportunity to create a wide glass roof system which would illuminate the space whilst providing remarkable thermal efficiency. We were eager to provide the client with a stunning upgrade that would help them to make the most of their time at home.
To do this, we took the time to understand their vision for their dream property, using our expertise to design an installation that would suit their needs. Our fitting team has years of experience installing bespoke extensions and was more than happy to lend advice to help find the best solution for the building. Once the details were decided, we began preparing for this unique build.
If you're interested in taking your own property to the next level with a stunning lean-to hardwood conservatory, get in touch with our specialists today. We will help you to start the process and revolutionise the feel of your home.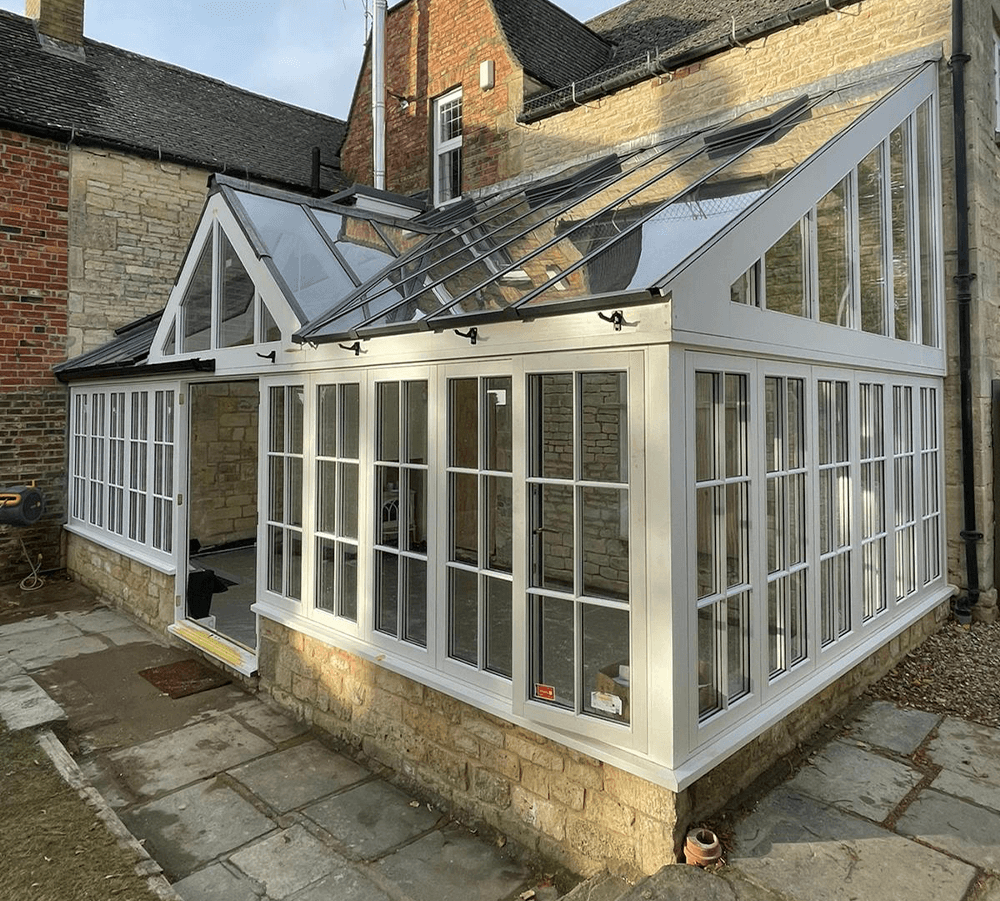 Replacing A Conservatory
The safe dismantling of an old conservatory installation can be a complicated process, but our skilled fitters know how to handle these tasks quickly and efficiently, ensuring all parts are removed from site and the space is clear. The client had opted for a whole new configuration of windows and doors, including French doors with timber frames and Astragal timber bars on a six-grid configuration. The quality of the glass made a significant contribution to the excellent thermal performance of the conservatory.
To further supplement this, the double glazed glass features were filled with Argon gas to trap warm air inside, whilst roof vents ensured the interior wouldn't become too hot in the summer. These vents were fully automated and equipped with rain sensors, helping them to adapt to the weather conditions and prevent water leaks from occurring. Bringing all services under one roof helped to simplify the process, as all carpentry and material costs were included in the project.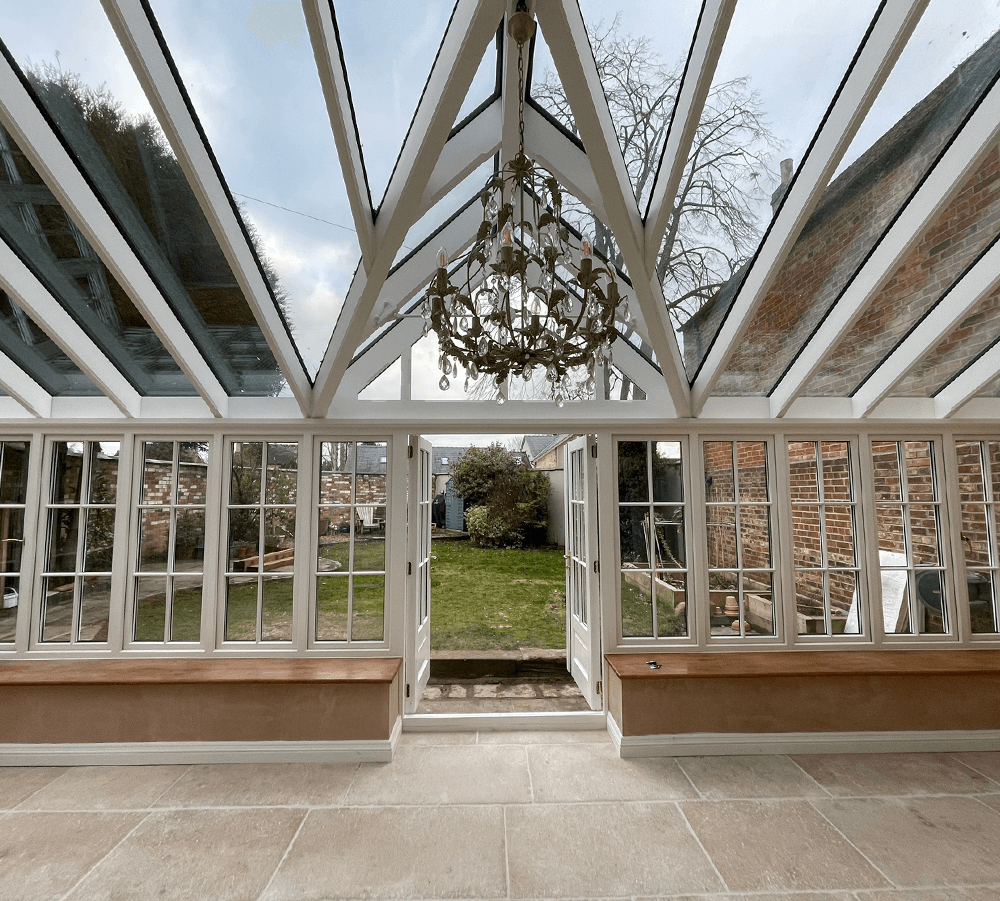 Lean-To Timber Conservatory
A gable end was used in the centre of the lean-to roof to add some flair and help to frame the conservatory. This glass roof model used toughened solar control glass, designed not just to last for years but to retain its sheen and great condition. Sapele was the timber of choice; all frames came with a 5 year manufacturer's guarantee and were finished with three coats of Teknos microporous paint to enhance preservation.
We were proud of the result, which made for a fantastic addition to the Prestbury property. A lean-to conservatory is the ideal model for homeowners looking to catch as much sunlight as possible, and the client was very happy with the performance of their new installation. With all hardwood products designed, manufactured, and delivered within 16 weeks, this proved to be a brilliant project which was completed quickly and to a premium standard.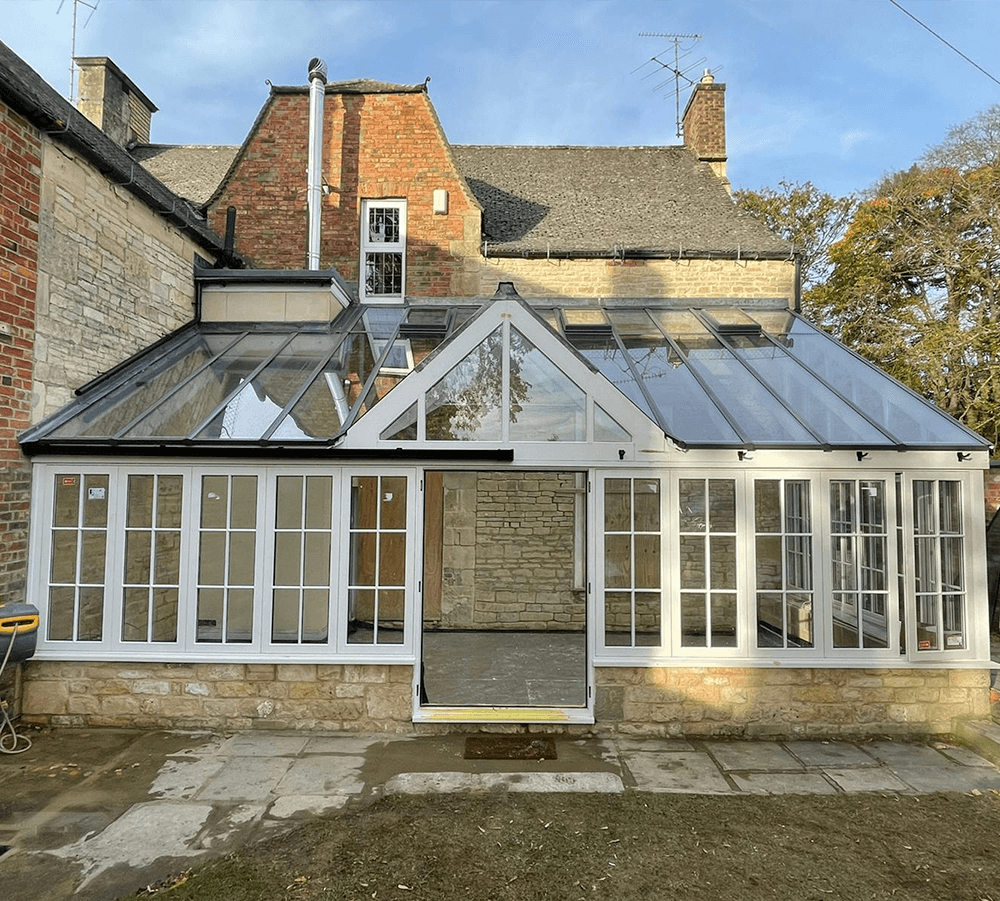 Lean-To Timber Conservatory Designs Prestbury
Other than lean-to timber conservatory models, we supply and install a wide range of extensions across Prestbury and the surrounding areas. Take your property to the next level with our design team who will manage the whole project from start to finish for you. Use our online designer tool to begin your conservatory or orangery journey or send us a message through our online contact form. If you'd rather speak to our project managers directly, you can give us a call on 01242 681207. We can't wait to hear from you!